The World Needs You... Be True to Yourself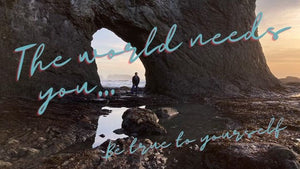 2021 has arrived and as I have contemplated the coming year, I have decided to give my 2021 a theme and that theme is to "Live Honestly".
Jim Rohn said, "If you don't design your own life plan, chances are you will fall into someone else's plan… and guess what they have planned for you?  NOT MUCH!"
Make 2021
The Rule Of 1:
1 month at a time!
1 habit
1 discipline
1 goal
1 accomplishment
Forget about new year's resolutions and let's take it one month at a time. So, what's your heart's desire to accomplish in January 2021? You know that thing you won't share with anyone for fear of (fill in the blank). And yet when we do not give our desires a voice, that desire sits quietly in our hearts never to be accomplished. The world suffers too, because the world needs us to be who we are created to be. So, let's be true to ourselves and become all that we are meant to be.
Join me in giving a voice to your one  Jan 2021 accomplishment - right here, right now!
What ONE GOAL must you set in order to call your accomplishment a win? 
What ONE DISCIPLINE must you insert into your lifestyle in order to support your goal? 
Name ONE Habit you must eliminate or create…stop (fill in the blank) or start (fill in the blank)
I will go first!
Accomplishment: Complete a continuing education certification in Jan 2021
Goal: Log 36 hours of training and pass the exam on Jan 29th
Discipline: Log 2 hours of training from 7-9pm M-W-Th-F-S for 4 weeks
Stop: Say NO to the TV 
Start: Say YES to the online training in a designated place free of distraction & TV
So, how about you? Let's take this one month at a time, give your heart's desire a voice! I would love to hear what your heart is telling you that it wants to accomplish in Jan 2021…comment below
Susan
6 Responses
Leave a comment
Comments will be approved before showing up.